Have you ever wondered what God is really like?
Last week I started attending a weekly Bible study on the Gospel of John. As I read
the assigned passages, a verse I've read zillions of times came alive. Spoke to my
heart in a fresh way!\
Hebrews 1:3a says, "The Son is the radiance of God's glory and the exact
representation of His being, sustaining all things by His powerful word."
I knew this, and you probably did, too. But this time, the Holy Spirit challenged
me to comb the Gospels in light of revealing the character of God, through the
life of His Son Jesus, on earth.
Why is this important to me?
First, I'm curious.
Secondly, I long for a closer, more intimate relationship with God. I can know someone at a distance, but I usually end up actually just knowing about the person. Only by spending time in one's presence do I really get to know a person.
Thirdly, the Bible instructs us to be transformed by the renewing of our minds. Where are we on that? Could it be a daily goal of ours to become more like Christ? SHOULD we be actively pondering this EVERY DAY?
Romans 12:2 says YES. "Do not conform to the pattern of this world, but be transformed by the renewing of your mind."
Not a suggestion … a command. But, transformed into what?
2 Corinthians says, "Now the Lord is the Spirit, and where the Spirit of the Lord is, there is freedom. And we all, who with unveiled faces contemplate the Lord's glory, are being transformed into His image with ever-increasing glory, which comes from the Lord, who is the Spirit."
Transformed into the Lord's image. Where do we even begin?
Let me suggest that we begin with that which we spend the most time.
Glancing through some old notes in the back of my Bible the other day, I found a model I'd copied from a book I was reading. I'll try to reproduce it below.

On this model, our time with the world and with God are just about balanced. But what if they aren't?
What if our time with the world far outweighs our time with God?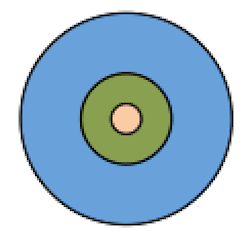 What will our lives most reflect? Our minds, our wills, and our
emotions—our attitudes and beliefs, our behavior and words, and our
feelings and attachment?
With which area do we spend most of our time?
I'm ready to begin this transformation process. Anyone with me?
Join me as I increase my time in the Word and blog about what I learn.
And … don't make me do all the work!
Click on the blue box below the blog that says COMMENT. Dig into the Scriptures and post what YOU find about the character of God. We'll learn from each other!
And, together, we'll allow the Holy Spirit to brighten the light of our witness to a world, lost in darkness, which sorely needs the touch of our loving and merciful God.