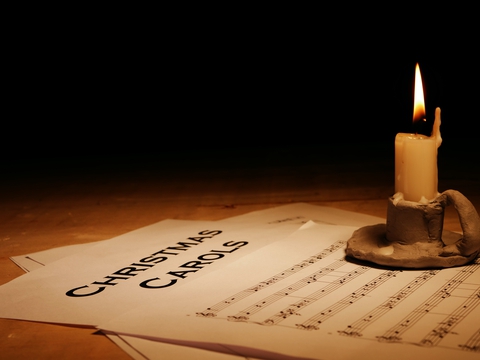 Busy. Busy. Busy. Christmastime ushers a multitude of seasonal activities and responsibilities into our already packed lives.
For some, this is a season of great joy and fun—a time to reconnect with family and friends. But for many, many others, the days surrounding Christmas seem to simply accentuate their sense of loneliness and heartache.
But one thing is for sure … we ALL have reason to celebrate the birth of our precious Lord and Savior, Jesus Christ.
We hear Christmas carols being sung and played all around us—on the car radio, during television commercials and movies, and in the stores. We might hum along or even join in with words. But I wonder how many of us have become spiritually desensitized to the meaning of the songs penned long ago in an attitude of worship and praise.
For the month of December, I'm going to post a short devotion each day based on a traditional Christmas carol. As we revisit the meaning or background of these lyrics, perhaps we'll be quickened in our spirits to offer up a moment of worship to our King when we hear these songs throughout the day. And even in the busyness of the season, we will find love, joy, and peace when we take just a moment to be still and bask in His presence.
AWAY IN THE MANGER-devotional
Our Father in Heaven provided a way in the manger so many years ago. A way to have our sins forgiven and to receive eternal life.
And God is still making a way for us, today. The Bible promises in 1 Corinthians 10:13 that "God is faithful; He will not let you be tempted beyond what you can bear. But when you are tempted, He will also provide a way out so that you can endure it." Christ is THAT WAY!
Jesus Christ came as a baby, humble and pure, that we might someday become part of God's family. Children of God.
So as we hear Away in the Manger, let's focus on the gift of eternal life in Christ. Let's pray the lyrics of one of the stanzas in an attitude of gratitude and intimacy.
Be near me, Lord Jesus, I ask you to stay close by me forever and love me, I pray. Bless all Thy dear children in Your tender care, and fit us for heaven, to live with You there.