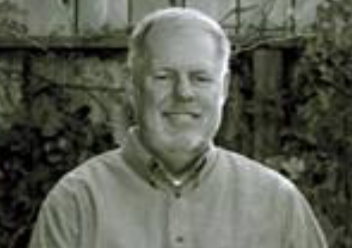 Hi, honey.
I'm thinking about you, as in a few hours it will have been eight years since you died. So hard to believe it's been that long.
I'm sitting here with your picture in front of me wondering what I would say if I could get a message to you.
I miss you, of course. Even more so when I look at your picture. I literally feel the warmth of your eyes and your smile. I can almost hear your laugh. And your voice. Standing beside me at church, singing during worship. Kneeling beside me at home praying for our kids. Answering your phone at work. Saying, "It's all good," the night you died when your fever was so high, your body stiffening, and your stomach heaving. To the very last, you wanted to comfort and encourage those around you. And you did.
The pain has changed over the years. In the beginning, I didn't believe it when people told me time would partially heal the wound. I wondered, "How could I ever miss Greg less than I do today? How could this hole in my heart ever be filled?"
The answer is that it hasn't been filled. There's still a gaping hole that only you could fill. But what has changed is that I no longer constantly yearn for that to happen. Scream for it. Cry for it. Plead for it.
God has helped me stop grieving over what I can never again have. I've accepted life and continued to move forward. You asked me to do that in the letter you left me. Not to look back.
But what I want you to know is that God has gone above and beyond that. I live a new "normal" and love my life. Sometimes I even notice advantages to being single.
But I'm really not alone. I'm not afraid, and I don't worry about the future. It's hard to imagine how a God in heaven can fulfill a promise to be a husband to the widow, but He does just that. I talk to Him, honey, like I used to talk to you. Sounds weird, but He gives me ideas. Reminds me of things you used to remind me of. Gives me words when I'm writing, like you used to do when I'd call you at work for them. Wakes me up in the night to tell me He loves me.
Do I wish I could hold your hand and snuggle beside you? Definitely. I miss your touch more than anything else. Thank you for loving me all those years—especially the last ten when we learned to appreciate each other so much more. Thank you for cherishing me, encouraging me, and spoiling me.
As the years pass, memories come and go, and I can't help but wish I'd done better as a helpmate for you. I wish I'd told you, as often as I told my friends, what a wonderful husband you were. I really know how to make them jealous when I relate memories of how you came to my school to warm my car and scrape the windows on snow day- dismissal times. How you ran me a bath, fixed me a coke, warmed my car, and carried all my school stuff to the car every morning before you left for work. How you'd surprise me with grilled cheese sandwiches and hot chocolate in the evenings when I was writing. How you'd come into the room with a grin and announce how you'd just arranged a surprise weekend trip to the beach (or the Bahamas) for us.
My greatest regret? Two things.
First, that you can't know how wonderful our kids are as adults. They've been the best in the world to me these last eight years. Loving, but not enabling me. Taking care of my needs. Constantly checking up on me. They are you in so many ways.
Second, the grandkids. This should probably have been first. I think the saddest I get is when I see a grandpa playing with his grandkids. Our grandkids are SO special. They would have LOVED you so much!
I don't understand why life had to happen the way it did, but that's okay. I don't go there. I'm so good with God's sovereignty and His plan for my life. But I sure can't wait to get to heaven to see you again.
Not sure how it all works out, but I hope I will know you as my husband and can hold you for days and days and days. Oh, honey, I love you so much! The sad tears are many, but not nearly as many as those of the joy I feel for having known and been loved by you. XOX Barbie
"You make known to me the path of life; You will fill me with joy in Your presence, with eternal pleasures at Your right hand." Psalm 16:11