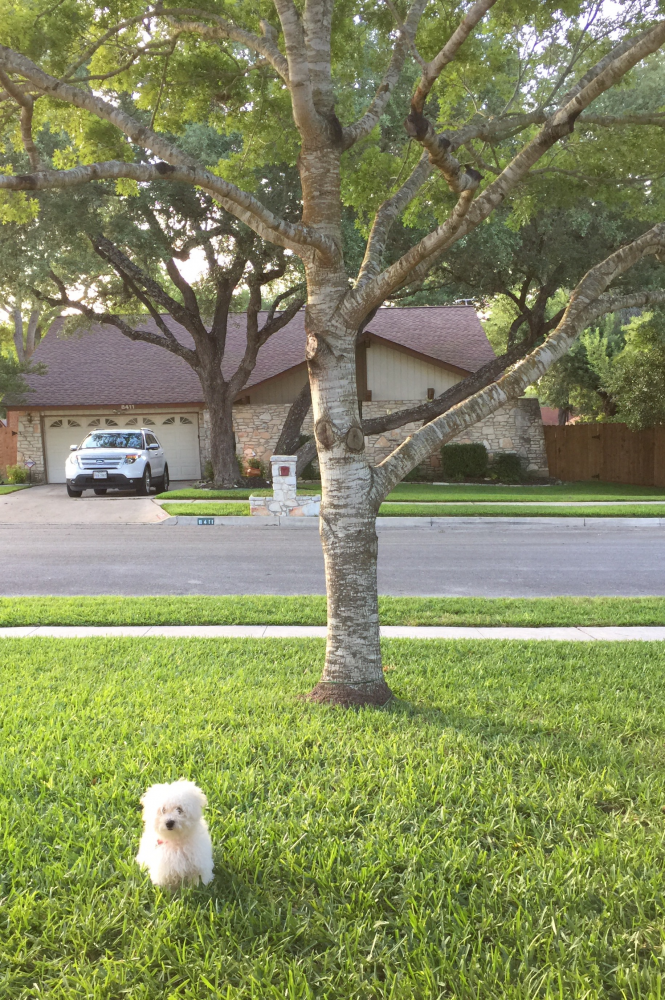 As I sit outside and wait for my sweet little puppy to potty in the grass instead of on my kitchen floor, I'm observing my freshly pruned tree.
Just a week ago, this tree resembled a gigantic sphere of leaves set atop of post of bark. Her shade was wonderful, and behold, I thought she was very good.
But, alas, my gardener came and pointed out some hidden faults. It seems many of the lower branches, though heavy laden with beautiful growth, leaned toward the ground instead of the sky. Instead of supporting the upper branches and encouraging growth in an upward fashion, these limbs were sucking the life out of my tree and actually limiting all upward growth.
As you can see from the pictures, my gardener skillfully trimmed away the branches that were not functioning in healthy manner—those not of benefit to the entire tree.
That which looked so pleasing to my eye had to go. Painful, but necessary.
Oh, we could take this analogy in so many directions. People in our lives. Habits. Thoughts. But God brought activity to mind.
I recently returned from my annual Christian writers conference in the beautiful mountains of Colorado. We experienced a huge snowstorm that closed the highways and dropped three feet of snow before us. We were snowed in.
While the view was exhilarating and the air crisp and refreshing, I was almost too busy working the conference to even appreciate what lay before me in splendor and glory outside. One morning, I opened my drapes and immediately had to look away. The brilliance of a white, snow-covered ground, bleeding directly into snow-covered mountains reaching all the way to the blinding sun was more than my human eye could behold.
For the first time, I was able to visualize verses about the radiance of God. Above and beyond anything I could imagine. And God spoke to my heart.
Like the lower branches on my tree, busyness was stealing my time with God and others. The things I was doing were good and necessary, but my priorities had become skewed. And in that moment, I realized that I needed to rid my life of the busyness, even if just for a few moments at a time, in order to continue growing in God. Some activities needed to be clipped away completely. Others put in perspective.
So I knelt … even though I was almost late for an appointment. "Lord," I prayed, "You and I both know I don't have time for this." We laughed together because the Lord knew my heart. "But I don't want to continue on my own. What a mess I've made of things in just this short time of busyness. My strength is gone. And my joy. I'm so sorry. Thanks for speaking to my spirit and reminding me what was missing . . . Who was missing. I love You so much. Fill me with more of You and remind me to look others in the eye and genuinely listen to their words and their hearts. I don't want to miss even one opportunity to bless them with Your love."
So often I work continuously while my heart longs to paint, play the piano, write my novel, or visit with others. Years ago I was taught to finish my work before playing. But I believe life would have me work myself straight into the grave with no breaks if I let it.
The lower branches of my tree are gone. You can see the darkened areas where my gardener applied salve to the open wounds to prevent infection while the tree heals.
Jesus, our Great Physician, keeps a careful watch over our growth in Him, pruning and applying the balm of Gilead when necessary. We are not responsible to grow our own fruit. Rather, we have only to listen and obey when He calls us to make changes in our lives.
In John 15:5, He says, "I am the vine; you are the branches. If you remain in Me and I in you, you will bear much fruit; apart from Me you can do nothing."