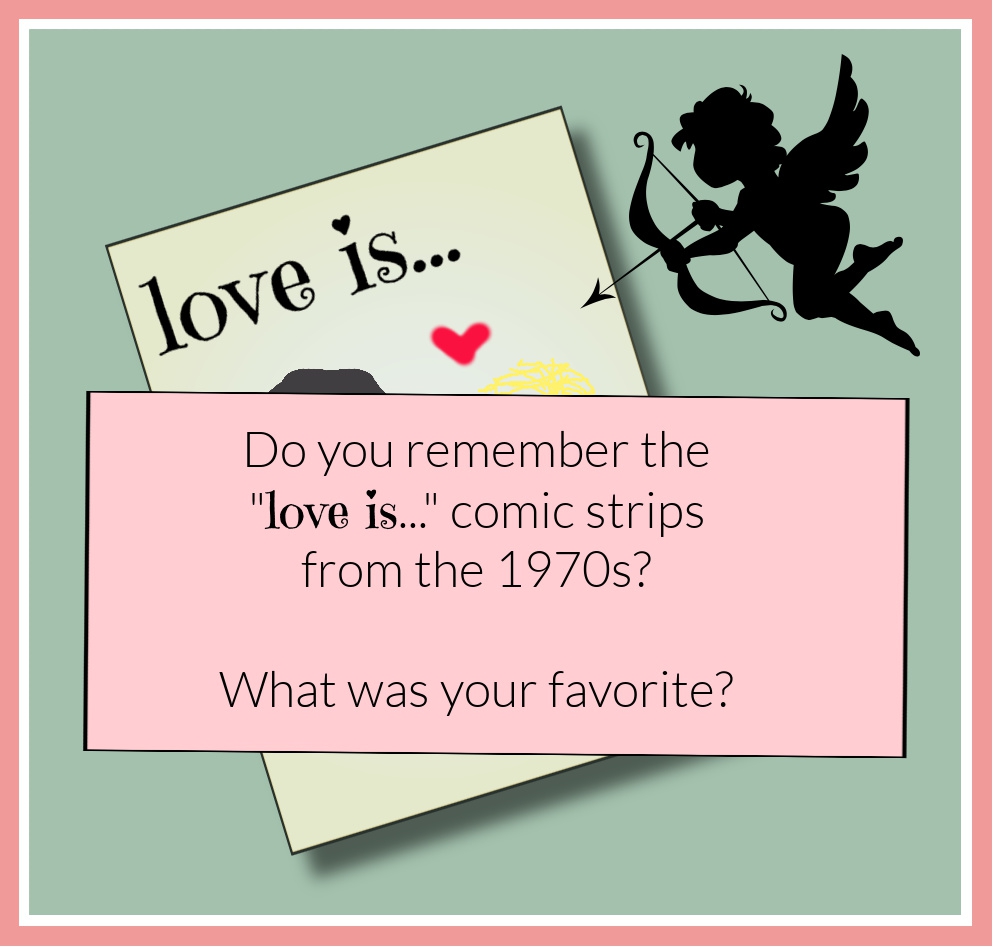 "One in the Bond of Love"
Awkward moment . . . A few years back I attended a military luncheon and sat across from a gentleman from my husband's office who had gotten married the month before.
"So, Gary, have you figured out each other's love languages yet?"
Oh, my. Some folks practically spit their drinks across the table. Laughs filled the place along with a lot of: "Oh, yeah, they've got the love languages down pat."
Good grief. I really should get out in the real world more often. I just assumed everyone would know I was talking about the popular book Love Languages by Gary Chapman.
With Valentine's Day coming up this week, I was thinking about the subject of love and remembered the "love is…" comic strips from the 70s. The drawings originated with actual loves notes cartoonist Kim Casali of New Zealand created for her future husband. One of her most famous drawings said, "Love is… being able to say you are sorry."
I love that.
The statement speaks of a love strong and safe enough to allow those in relationship to be honest with each other. Secrets bind us and blur our relationships. Transparent communication enables us to love and encourage one another and helps us know how to best pray for each other.
My husband, Greg, and I were married fifty years ago this May. We had a song in our wedding titled "One in the Bond of Love" (link below). I cry from deep in my heart tonight as I listen to the song; it brings back such precious memories. How I long to hold my sweetheart in my arms again and to be held in his, to kneel and pray together for our kids, and to watch the Spurs games and Law and Order together. I miss the grilled cheese sandwiches he surprised me with when I was in my office writing and the many, many times he came out of his office and announced he had planned another trip for us. He loved me with words and actions. I am truly blessed to have known such love.
As the song lyrics say, God truly bound my husband and I together in Him for the thirty-seven years we had together. Sure, we had tough times, but we trusted God and He brought us through. The pastor at our wedding said, "Greg and Barb, with God in your lives, there will never be a problem so big that God cannot solve it." Believe me, we listened to the cassette tape of our wedding many times through the years to remind ourselves of that promise. We banked on it, and God never let us down.
What about you? If someone asked you what love is, what would you say?
Me? Of course, God is love. That's huge! But I think 1 John 3:18 pretty well sums up what I think love should be. "Dear children, let us not love with words or speech but with actions and in truth." It's easy to talk the talk, but I want to walk the talk!
Happy Valentine's Day! I pray that in every relationship you have, you will allow God to bond you and yours together in His love!
Here's the link for "One in the Bond of Love." The song was written by Otis Skillings.
https://www.youtube.com/watch?v=o7GChnRx23c