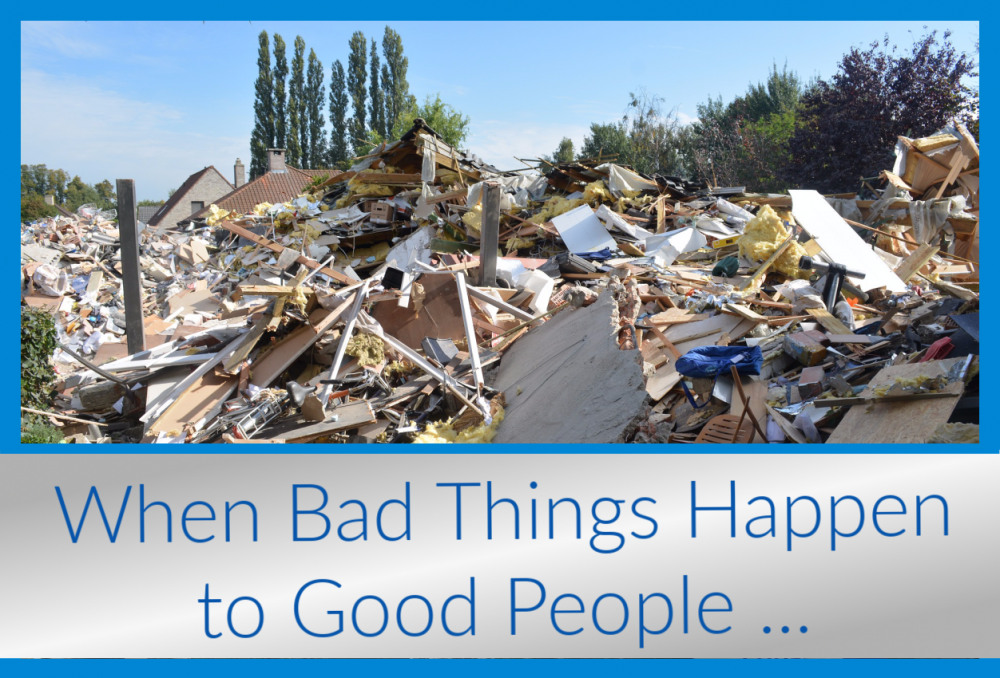 As I thought about the glorious presence of God being experienced at the revival at Asbury, I decided to study passages in the Bible where God presented Himself to people. I began with a word search on darkness.
Job 12:22 says, "He reveals the deep things of darkness and brings utter darkness into the light" (NIV). The verse called to me so I began to read the book of Job.
I've read it many times, focusing on the book as a whole—Satan's conversation with God, Job's troubles and conversations with friends and finally, with God. But this time was different. I felt like I was right there with Job, getting to know him as a real person.
First of all, I realized what an incredible man of God he was. In chapter 29, he longed for better days "when [he] was in [his] prime, when God's intimate friendship blessed [his] house, when the Almighty was still with [him]."
At that time, Job was well respected by all. Not surprising.
He:
rescued the poor who cried for help
rescued the fatherless who had none to assist them
ministered to the dying and to the widows
served as eyes to the blind, feet to the lame, and a father to the needy
took up the case of the stranger
broke the fangs of the wicked and snatched the victims from their teeth
offered counsel and wisdom and sat as the people's chief
My heart warmed as I visualized verse 24: "When I (Job) smiled at them, they scarcely believed it; the light of my face was precious to them."
Can't you just imagine sitting in the crowd and receiving a smile from this gracious hero—one-on-one attention? Wouldn't you love to invite him into your home and draw from his kindness and wisdom over a meal? Somehow, my heart connected to Job as I read his words, and I was inspired to check my own life. Am I doing all I can for the Lord?
Why would God allow such hardship on someone like Job?
We know the prologue, Satan's conversation with God and God's decision to give Satan permission to test Job. Hence, we understand why the trial occurred. But Job did not have that foresight, did he?
Job was beside himself. In chapter 23, he longed to find God so he could present his case to Him. Surely, God could find nothing to hold against Job. He tried so hard to please God. Now he ached in his heart to learn why God was allowing this suffering. He was desperate to understand.
I get it, don't you? How many times in life do we question God's logic? We know He is faithful. We trust in His sovereignty and submit ourselves to His will. We would never question His hand, but we long to understand. Why would God allow a stillborn child to be born to a couple dedicated to serve God? Why would God allow an earthquake to kill and destroy the lives of thousands of people? He could have stopped these things, right? Sometimes God does intervene. How does that make sense?
That's where Job was. He'd listened patiently as his friends accused him of sin, but he would have nothing to do with it. He said, "But [God] stands alone, and who can oppose him? He does whatever he pleases." Later, Job said, "As surely as God lives, who has denied me justice, the Almighty who has made my life bitter . . . I will maintain my innocence and never let go of it; my conscience will not reproach me as long as I live" (Job 27:2, 6).
Do you detect a hint of sarcasm in Job's words? A touch of anger? Or is Job simply resigning himself to the fathomless sovereignty of God?
God speaks to Job personally in chapter 29. Take time to read God's response. It's so . . . God. He basically puts Job in his place by asking wonderful, thought-provoking questions. No anger. Rather, like a Father speaking to His son. "Stop, Job. Remember who I AM."
Then the hammer came down in two short verses: "Moreover the Lord answered Job, and said: 'Shall the one who contends with the Almighty correct Him? He who rebukes God, let him answer it'" (Job 40:1-2).
Oh, my. Job, in his commitment not to sin against God, had unknowingly done just that by questioning God's justice. Remember his words: "As surely as God lives, who has denied me justice." In essence, Job questioned the very person of God.
Job immediately surrendered to God's counsel. Humbling himself, he answered, "Behold, I am vile . . . once have I spoken . . . but I will proceed no further" (Job 40:4-5).
God wasn't finished, though. He asked Job, "Would you discredit my justice? Would you condemn me to justify yourself?" (Job 40:8).
The Bible doesn't describe the setting, but I can imagine Job fighting back tears. Remember, this is the Job we talked about in the beginning who has a heart of righteousness. The Job who does all things for all people. He replied to the Lord, "Surely I spoke of things I did not understand, things too wonderful for me to know . . . My ears had heard of you but now my eyes have seen you. Therefore I despise myself and repent in dust and ashes" (Job 40:3,5).
God forgave Job and "blessed the latter part of Job's life more than the former part" (Job 40:12).
This time of testing transformed Job's relationship with God Almighty. At first, Job had only heard about God. Now he saw Him. Now he knew God personally.
Trials can pare us down to the bare bones of our faith, can't they? God understands. Remember, we are told in Psalm 103:14 that "[God] knows how we are formed, he remembers that we are dust."
Job grieved over what he had done, probably something along the line of what Peter felt when the cock crowed after he'd denied knowing Jesus.
Dr. Bill Webster, in his article "Life in Challenging Times," points out that one prominent component of grief is blame. When we feel powerless to change our circumstances, we desperately seek for someone or something to blame. Sometimes we blame ourselves. Sometimes we blame others. Job blamed God.[1]
Another expert on grief describes it as being "lost at sea: no connection to anything." Can you see that in Job? He had lost touch with life as he had known it. The article continues to point out that "anger becomes a bridge over the open sea . . . something to hold onto; and a connection made from the strength of anger feels better than nothing."[2]
In his grief, Job needed someone to blame. Or did he? We now know that placing blame in confusing times is a normal reaction. Normal, but optional. Knowledge is power. Let's use this knowledge to avoid placing false blame in such times.
Personal takeaway? Know that God's character will never change no matter what our emotions and faulty human reasoning might suggest. He is the same yesterday, today, and forever. We will experience times when life doesn't make sense. Times when, like Job, we are not privy to what God is doing behind the scenes. Times when trusting God instead of searching for understanding stretches our faith. But in the end, we will know God more intimately, and that will make it worth it all!
[1] Life in challenging times. Grief Journey. (2020, October 17). Retrieved February 20, 2023, from https://griefjourney.com/3542-2/
[2] Five stages of grief by Elisabeth Kubler Ross & David Kessler. Grief.com. (n.d.). Retrieved February 20, 2023, from https://grief.com/the-five-stages-of-grief/